Open

GBP




Account

Online
With Transferra, you can easily set up a British Pound account to start receiving payments and sending money abroad
within minutes. The onboarding and verification process is completely digital, making it easy and convenient for you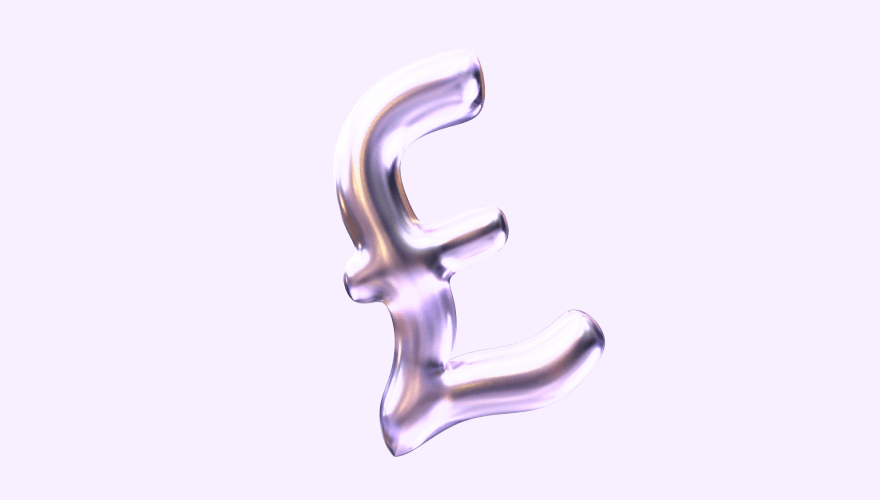 Expand Your Business Globally with a British Pound Account
Having a British Pound account can be beneficial if you frequently receive payments in GBP or do business with partners based in the UK. It also eliminates the need to convert funds from other currencies to GBP, which can result in costly exchange fees. Transferra offers a sterling business account designed to support your global growth.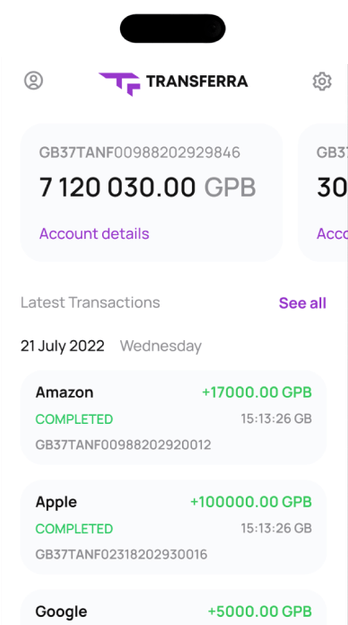 Now you can transfer money and manage your business finances with ease:
GBP account comes with a range of powerful financial tools such as batch payments, user management and foreign exchange, all available right out of the box.

Transferra supports all major local GBP payment methods, including Faster Payments, BACS and CHAPS. These options enable simple, fast and secure GBP transfers within the UK.

Transferra also allows you to easily send and receive funds in multiple currencies, making it a great option for businesses that operate in different markets.
When you create a sterling account with Transferra, you will receive a local UK sort code and account number in GBP. This allows you to easily receive payments in GBP from local sources within the UK. Having a GBP account can simplify transactions and make it easier for you to do business with UK-based partners and customers.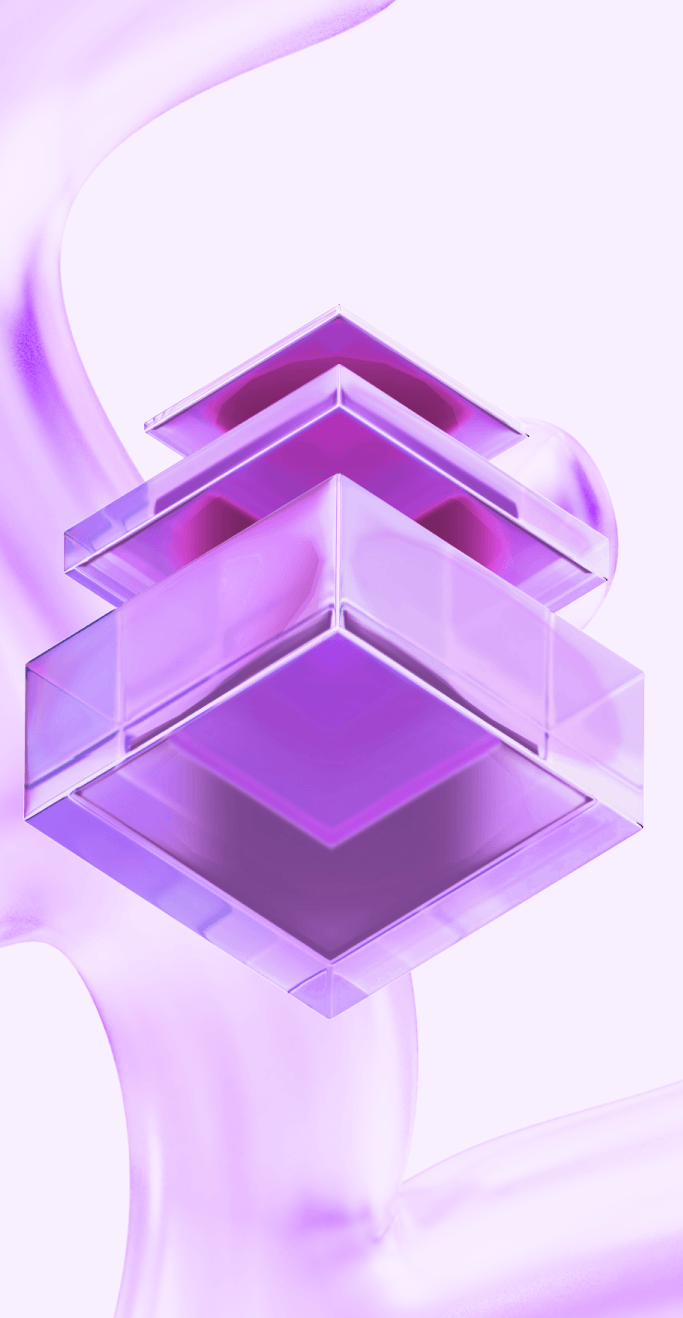 Reasons to Open Sterling Account
Transferra offers you a range of financial services, including your individual IBAN, international payments, currency exchange and more. Signing up for a sterling business account is quick and easy, allowing you to manage your finances efficiently.
With Transferra, you can easily pay your suppliers and employees in GBP. Simply hold your funds in GBP and payout via direct deposit, with no conversion fees or hassle. This allows for seamless and cost-effective transactions.

Transferra makes it easy to send money and receive payments in GBP, manage your cash flow and reduce the risk of currency fluctuations affecting your income or expenses.

With a GBP account, you may be eligible for a range of financial products offered by UK-based financial institutions, such as loans and lines of credit, which can help support your growth.

You can withdraw money in your local currency. Convert various currencies including USD and EURO into GBP at competitive rates, allowing you to access your funds quickly and conveniently.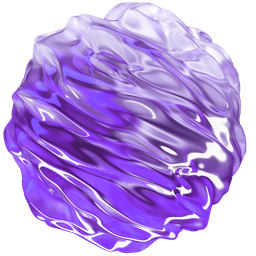 Opening an offshore GBP account can offer several benefits, including tax advantages, greater financial privacy and asset protection. If you live in an offshore location and are unable to access financial services offered by UK financial intitutions, an offshore GBP account at Transferra is your gateway to the future of foreign exchange and truly borderless business.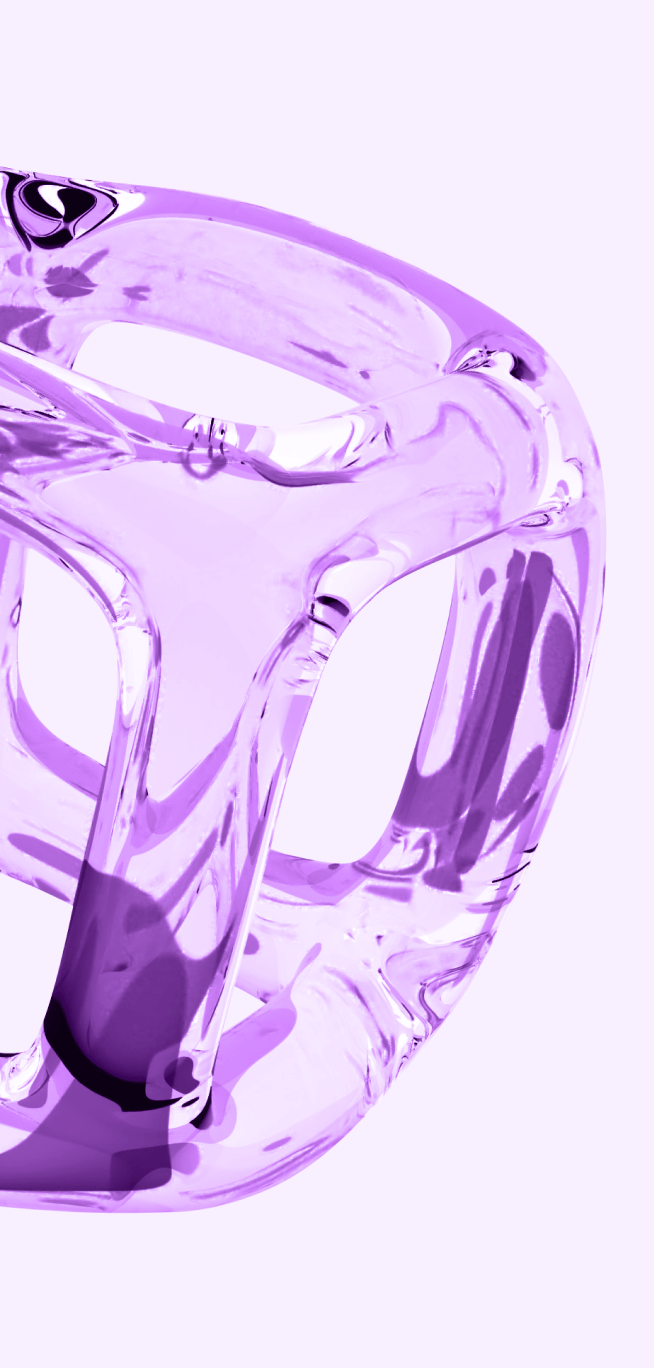 Open GBP Account Online
Within 3 Days at Transferra
Transferra offers a fully digital registration and onboarding process, allowing you to open an account in minutes from anywhere in the world. With no physical paperwork or face-to-face appointments required, you can quickly and easily access our financial services and start managing your business finances more efficiently:
01

Register for a profile and complete the online onboarding process.

02

To open an account, provide supporting documentation.

03

Once approved, you'll be connected to a dedicated account manager.

04

Start using your accounts for business and take advantage of Transferra's wide range of financial services.
Now you can open a GBP account online within 3 days
Every business is unique, with its own goals, approach and specific needs. A one-size-fits-all solution doesn't work for everyone. Transferra is designed to work with companies of all sizes and structures, offering tailor-made solutions. This way, you can be sure you're getting a service that works for your business and unique needs.
FAQ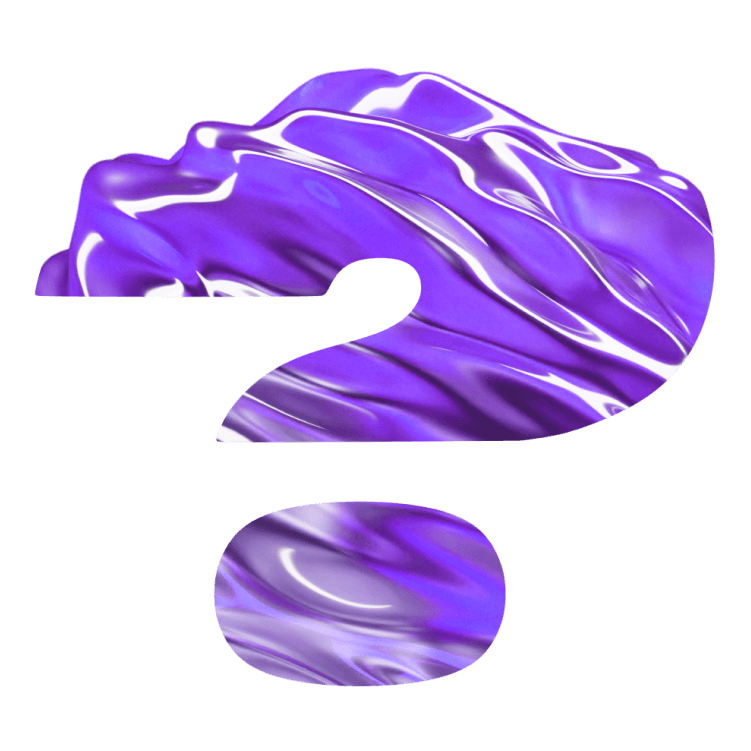 How Do I Open a GBP Account?

Opening a such account with Transferra is a straightforward process. Simply complete the online application form with your business and personal details. Then provide any necessary supporting documentation, such as proof of identity and business registration. Once your application has been approved, you will receive your sort code and account number.

What Is a GBP Account?

It is an account denominated in Great British Pounds (GBP), the official currency of the United Kingdom. They usually come with a unique sort code and account number, allowing you to send and receive payments within the UK using local payment methods such as Faster Payments, BACS and CHAPS.

Can I Open a GBP Account?

Yes, you can open a GBP account if you are an individual or a company that needs to hold, send or receive Great British Pounds (GBP). Transferra's registration and onboarding process is completely digital, so you can do it in minutes from anywhere in the world.

How Can I Pay in GBP?

You can make GBP payments within the UK using local payment methods. If you need to make cross-border GBP payments, there are international options, such as SWIFT, which allow you to send and receive GBP payments worldwide. Transferra lets you make fast payments in the UK, Europe and the USA.

How Long Does GBP Transfer Take?

Payments are usually credited to the recipient's account immediately or within a few minutes. Sometimes Faster Payments can take up to two hours to arrive, but this is rare. International GBP transfers using SWIFT can take up to several business days to complete, depending on the destination country's regulations.
Unlock more financial opportunities for your business with Transferra's business account
Open a Sterling account and access a range of financial services from a single platform
Open Account