February 28, 2023
6 mins read
What is a BACS payment? In the United Kingdom, BACS payments are consistently ranked among…
What is a BACS payment?
In the United Kingdom, BACS payments are consistently ranked among the most common types of bank-to-bank transactions. BACS payments often take the following two forms: Direct Debit, in which one party is permitted to withdraw money from the bank account of another party, and Direct Credit, in which one party puts money into the account of the other party.
Types of BACS payments
A BACS payment is a transfer of funds from one bank account to another within the United Kingdom. There are two basic BACS payment mechanisms, which may be differentiated by the following:
Direct Debit refers to the process through which you provide permission to a third party to take money out of your bank account. Your monthly payments of council tax, internet subscription, and maybe even other expenses might be collected by direct debit.
Direct Credit refers to as a "bank transfer," this is the process that takes place when money is sent straight into your account from another source. Examples of direct credits include reimbursements, salary payments, pension payments, and so forth.
How do you make a BACS payment?
BACS Direct Credit: Either your banking service or your business banking service may be used to credit another account. You are going to need the payee's name, the payee's bank name, the payee's bank account number, and the sort code. When you debit the account, you will need the same information as before.
Direct Debit: Your customer permits you to take money out of their bank account when they use the Direct Debit payment method. You are going to need the payee's name, the payee's bank name, the payee's bank account number, and the sort code.
There are three alternatives available to choose from if Direct Debit payments are something that your business is interested in receiving:
To create direct bank access, the Bacstel-IP software may be used. This programme has been authorised by BACS.
You are allowed to utilise a bureau that has been accredited by BACS.
It is possible to make use of a third-party provider such as GoCardless.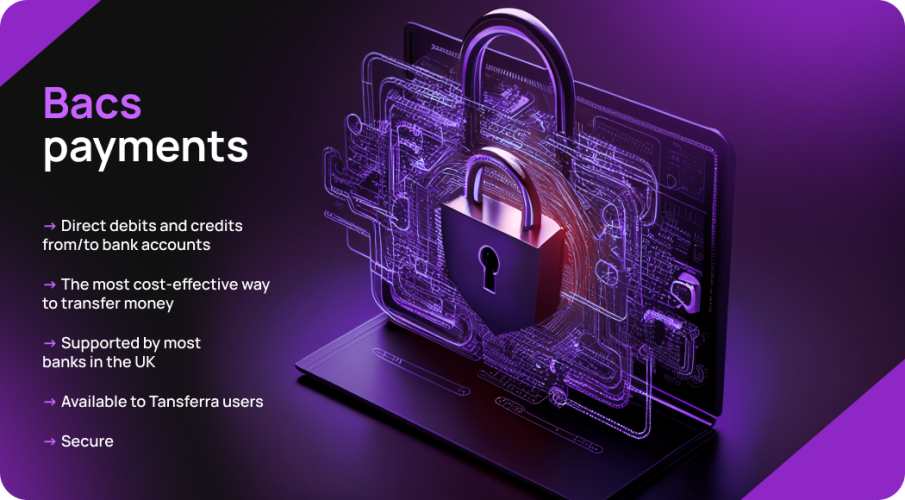 How long does a BACS payment take?
Payments made via BACS Direct Credit and Direct Debit have a cycle of three days and must settle over three business days. On day one, payments are reported to BACS; on day two, banks process the payments; and on day three, the funds are simultaneously deducted from the account of the sender and credited to the account of the receiver.
The majority of payment transactions may be completed in less than two hours when using the Faster Payments Service.
What are the fees for a BACS payment?
One of the most cost-effective ways to collect payments is by using BACS. If you want to set up Direct Debit directly with your bank, you will be required to purchase BACS-approved software, which will result in extra costs for you.
In a similar vein, collecting Direct Debit payments via a bureau will probably result in an additional fee to cover the cost of the required software. As a result, using a technology that facilitates direct debit could be the most cost-effective option. The following is a list of the fees that are connected with the various Direct Debit options:
If you go via a bank, your start-up costs will be £5,000 plus the price of BACS-approved software, which will typically be at least $2,495 and maybe much more. You will also be responsible for transaction charges, which may range anywhere from 5p to 50p, in addition to any additional bank expenditures.
If you go via a bureau that is authorised by BACS, the setup will cost you between $400 and $800, and the transaction costs will range from 20p to 50p on top of the monthly charges, application fees, new mandate fees, and penalties.
We provide a variety of options via GoCardless, and each one is tailored to meet the specific needs of your business. When you sign up for our standard plan, we'll charge you only 1% plus 20p for each transaction, with a maximum fee of £4.
How safe is making payments using BACS?
BACS is a system that is renowned all over the world for safely sending electronic payments since it is a way that is both extremely secure for collecting and making payments:
Since 1968, BACS has been the organisation in charge of clearing and settling all of the automated payments that take place in the United Kingdom.
According to recent research, it has been used for over 130 billion transactions, and it has never failed to complete payment.
The BACS network uses the SSL-encrypted technology known as Bacstel-IP. In addition, a password that is both secure and encrypted must be used, and the system must pass frequent validation tests for both the data and the user's authorisation.
The Direct Debit Guarantee protects customers from fraudulent or unauthorised payments, and only recognised organisations are allowed to accept Direct Debit payments.
When are BACS payments used?
This is a method that utilises digital technology to move money digitally between two different bank accounts. The majority of the time, organisations will use them for direct payments and direct debits. The monies that were put in on Monday will be considered cleared on Wednesday since it takes the payments three business days to clear.
Which UK banks facilitate BACS payments?
According to the website for the BACS payment system, the following banks and financial organisations are among those that take part in the BACS payment system:
| | | |
| --- | --- | --- |
| Allied Irish Bank | HSBC Bank PLC | Starling Bank |
| Atom bank | HSBC UK Bank PLC | The Access Bank UK |
| Bank of England | Lloyds Bank PLC | The Co-operative Bank |
| Bank of Scotland PLC | Metro Bank | The Royal Bank of Scotland |
| Barclays Bank PLC | Modulr | TSB |
| Barclays Bank UK PLC | Nationwide Building Society | Turkish Bank UK |
| Citibank NA | NatWest | Virgin Money |
| ClearBank® | Northern Bank | |
| Clydesdale Bank PLC | PayrNet | |
Pros and cons of BACS payments
The Pros and Cons of using BACS payments are as given below;
Pros
The most cost-effective way to transfer money is via the use of BACS payments.
Each and every payroll and accounting program is capable of reading and writing BACS files.
Cons
Payments made through BACS can only be cleared on business days.
Strict time limits for cutoffs.