Looking for the best business bank account for startups? Our comprehensive guide covers everything you need to know to find the right bank account for your business needs.
Best Startup Business Bank Accounts
Startups, unlike established firms, have certain financial requirements that must be carefully considered when choosing a business account. The financial picture of a startup is frequently defined by fast growth, limited resources, and an urgent need for simplified operations. As a result, it is critical to select a provider that understands and responds to these special needs.
The best startup business bank account should be a strategic ally, helping the entrepreneurial journey. It should offer a complete set of capabilities, competitive pricing, and an easy user experience that is in sync with the changing nature of a company. A startup account should also provide entrepreneurs with the tools and services they need to negotiate the financial complexities of their firm.
In this article, we will look at the essential factors to consider when choosing a business account for a startup. We will look at the key elements that may make a major impact on financial management, development, and long-term success. Understanding the individual objectives and goals of startups allows us to identify the best financial solution that fulfils their demands and drives their road to success.
Choosing A Business Account: Things To Consider
There are several key factors that entrepreneurs should carefully consider. Startups have unique financial needs and aspirations, necessitating a banking solution that caters specifically to their requirements.
Competitive pricing. With limited resources and a focus on maximizing profitability, startups need a banking solution that minimizes fees and provides cost-effective services. The account should offer transparent fee structures and provide flexibility in terms of account management requirements.
User-friendliness and accessibility. A seamless and intuitive online banking platform allows entrepreneurs to manage their finances efficiently, saving valuable time and effort. The provider should offer features such as mobile banking, real-time transaction notifications, and easy integration with accounting software, empowering startups to stay on top of their financial activities.
The ability to handle multiple currencies. Startups often engage in global transactions, collaborating with international partners and customers. A business global account that supports multi-currency functionality enables startups to operate seamlessly in the global marketplace, avoiding unnecessary conversion fees and complexities.
The availability of value-added services. These may include access to business loans, lines of credit, or financial advisory services tailored specifically to startups. Such services can provide vital support during periods of growth or when additional capital is needed to fuel innovation.
The reputation and reliability of the provider. Opting for an established and trusted provider ensures stability, security, and access to a wide range of financial services beyond the current account.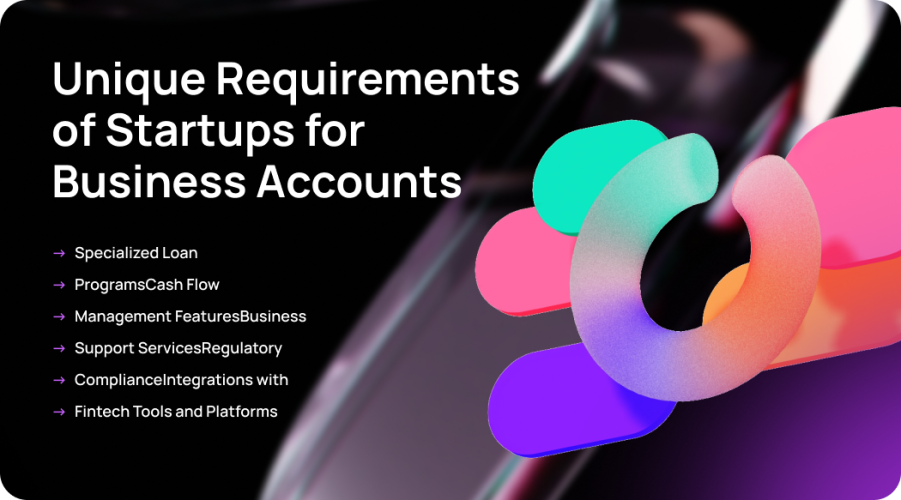 Top Choices for Startup Business Bank Accounts
When it comes to the best startup business bank accounts for startups, there are several noteworthy providers that cater specifically to the unique needs of startups. Each of these providers offers a range of features and benefits, including competitive pricing, user-friendly interfaces, multi-currency capabilities, and access to value-added services.
Starling Bank
Starling Bank has emerged as a major player in the provision of customised banking solutions for entrepreneurs. Starling Bank provides an appealing package for entrepreneurs wishing to start their companies, with an emphasis on new technology and user-centric features, such as:
No monthly fee
Integration with Xero, FreeAgent and Quickbooks
No transaction fees
User-friendly mobile app
Starling Bank offers several customisation tools for an additional fee. For example, startups can open a USD account in the UK for £5/month.
Tide
Tide is a popular business banking option that focuses on helping startups. It offers efficient and streamlined financial services, making it a great choice for entrepreneurs. Tide also provides a convenient mobile app, making banking hassle-free for busy startup owners. Other features include:
A range of pricing plans, depending on your needs
Integration with Xero, FreeAgent and Sage
Possibility to manage invoices within the system
Company expense cards
HSBC Kinetic
HSBC Kinetic is a banking option specifically designed for startups. HSBC, a well-known and trusted bank, offers a range of services to support entrepreneurs. HSBC Kinetic aims to make banking convenient and accessible for startups, providing innovative tools to manage finances effectively. These tools include:
No monthly fee during the first year
Overdraft available
International payments
Small business loan offer
It is with mentioning that HSBC Kinetic specifically suits startups with one director.
Mettle
Mettle is tailored to meet the specific needs of small businesses and freelancers. With its digital-first approach, Mettle provides a seamless and user-friendly banking experience. This account for business comes with a range of features, including real-time transaction notifications, easy expense management, and intuitive invoicing tools. Other features include
No monthly fee
Transaction categorization for easier accounting
FSCS protection for sums up to £85,000
Integration with Xero, FreeAgent and Quickbooks
Mettle operates only in the UK and supports only UK payments. If you want to open a foreign currency account in the UK, you might want to look for alternative providers.
Monzo Lite
Monzo Lite is a simplified version of the popular Monzo business account, designed to cater to the needs of freelancers, sole traders, and small businesses. With its straightforward approach, Monzo Lite offers essential banking features without unnecessary complexities. This platform provides users with a user-friendly mobile app that allows easy tracking of expenses, managing invoices, and monitoring transactions in real time. Other features include:
Multiple business accounts
Integration with accounting systems such as FreeAgent and Quickbooks
Multiuser access
International payments
Revolut
Revolut offers a wide range of features to streamline financial management. Revolut provides startups with multi-currency accounts, making international transactions and currency conversions easy and hassle-free. There are also other features, such as:
Physical and virtual debit cards
Currency exchange
Accounting software integration
Invoicing solution
If you are looking for specific functionalities such as access to business loans, exploring Revolut alternatives may be beneficial to choose a better business bank account for startups.
Metro Bank
Metro Bank offers a range of features and services to support the financial needs of startups, including easy-to-use online and mobile banking platforms. With Metro Bank business accounts, you can manage your finances efficiently, make payments, and track transactions. Metro Bank also provides access to additional services:
7-day switch guarantee
No monthly fee fur businesses with a monthly balance above £6,000
Overdraft available
Foreign currency accounts
Bank of Scotland
Bank of Scotland offers a range of services and features to help entrepreneurs manage their finances effectively. You can easily make payments, track transactions, and manage cash flow. Bank of Scotland also provides access to additional services such as:
FSCS protection for sums up to £85,000
No monthly fee during the first year
Free electronic payments
Overdraft and savings available
NatWest
With NatWest, you can manage your finances conveniently and efficiently. The company offers features like online and mobile banking, making it easy to track transactions, make payments, and manage cash flow. NatWest also provides access to additional services such as
No monthly fee, free banking for first 1,5 years
Loan and overdraft options available
Account switch guarantee
Free accounting software available
Transferra: A One-Stop-Shop Solution for Startups
Transferra is a game-changing alternative for small and medium business owners. With its comprehensive range of solutions, Transferra offers a host of features specifically tailored to meet the unique needs of startups. Here are some of them.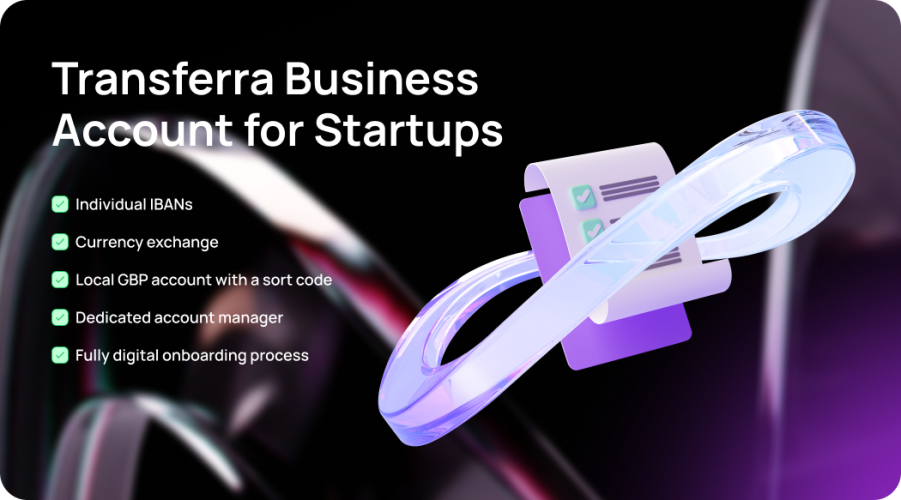 Individual IBANs. This allows startups to receive and make international payments with ease, ensuring seamless global transactions. Whether it's sending payments abroad or receiving funds from international clients, Transferra simplifies the process, eliminating unnecessary complexities and reducing transfer costs.
Currency exchange. With the ability to hold and transact in multiple currencies, startups and new business customers can navigate the global marketplace with unparalleled flexibility. Transferra supports more than 10 currencies, including major ones like USD, EUR, GBP, and AUD, enabling businesses to seamlessly manage their international operations.
Local GBP account with a sort code. This empowers you to make UK domestic payments effortlessly through trusted channels such as BACS, CHAPS, and Faster Payments. For businesses with European operations, Transferra supports EUR payments through SEPA and SEPA Instant payments, ensuring smooth cross-border transactions within the Eurozone.
Dedicated account manager. This ensures that you receive tailored support and assistance, helping you navigate the platform's features and address any queries or concerns promptly. The manager serves as a trusted advisor, guiding entrepreneurs through their financial journey and providing valuable insights.
Fully digital onboarding process. With Transferra, you can open an account conveniently from the comfort of your office or home. This streamlined onboarding process saves time and eliminates unnecessary hassle, allowing you to focus on what matters most – running and growing your operations. If you are looking to open a business in the UK, Transferra is a great option to open a business account as a non-resident.
FAQ
Which bank account is best for startups?
Choosing the best bank account for startups depends on your specific needs and preferences. Several factors to consider include fees, features, customer support, and integrations with accounting software. Some popular options include Starling Bank, Tide, and Transferra. It is recommended to compare the offerings of different banks and assess which aligns best with the unique requirements of your startup.
What kind of bank account do I need for a small business?
For a small business, a dedicated business bank account is essential. This separates personal and company finances, streamlines financial management, and ensures compliance with accounting and tax requirements. A business account typically offers features like business debit cards, online banking, and access to merchant services and business loans.
Which is the easiest bank account to open?
The ease of opening a bank account can vary depending on the bank and the specific requirements. However, some banks have streamlined processes and digital onboarding, making it easier to register. Online-based banks such as Transferra have a straightforward and user-friendly account opening experience, eliminating the need for branch visits and lengthy paperwork.