February 28, 2023
11 mins read
A CHAPS payment involves high-value money transactions between two accounts. Here's everything you need to know about CHAPS.
What Is A CHAPS payment?
Have you ever wondered what CHAPS stands for? It's an acronym that stands for Clearing House Automated Payment System. The Bankers Clearing House in London founded the system back in 1984, but the system has since been managed by different organizations throughout its history. As of 2017, the Bank of England has taken over the management of the CHAPS system.
A CHAPS transfer is similar to a traditional bank transfer in that it involves the movement of money between two accounts. CHAPS, on the other hand, is often used for the conduct of high-value transactions. The system manages a significant amount of money at any one time. According to the data provided by the Bank of England, the daily average value of transactions in February 2021 was £341 billion.
CHAPS is under the supervision of the Bank of England, and it may only be used to settle pound transactions that take place inside the United Kingdom. It's important to note that CHAPS is different from BACS, which is a system used for electronic transfers of funds between bank accounts in the UK.
How Does the CHAPS System Work?
In terms of how payments are processed, CHAPS transactions are comparable to bank transfers in their functionality. Depending on the bank that you use, you may be able to initiate a transfer by coming into one of your branches or, in some circumstances, by doing so. Remember that you need to prepare all of the payment details.
If you are a client of Starling and would want to submit a payment (a transfer of more than £500,000), you will need to get in contact with customer care.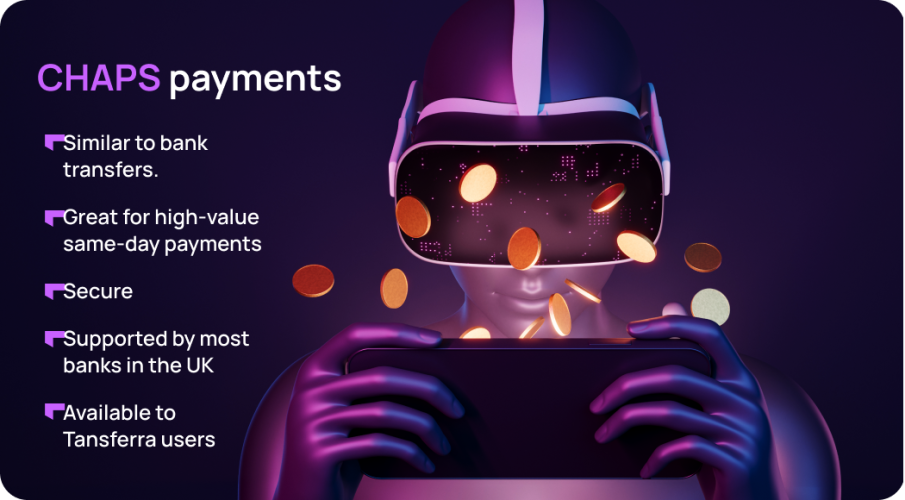 Which Banks Use CHAPS?
Although the vast majority of financial institutions in the UK are equipped to transmit and receive CHAPS payments, only certain of these institutions are considered "direct participants" in the system.
A bank doesn't need to be a direct participant in the system for the bank to transmit and receive CHAPS payments. A significant number of individuals rely on sponsors or intermediaries to manage their instructions. Starling is now placed in this predicament.
Through the use of our sort code verification tool, you will be able to determine whether or not your bank will accept CHAPS transfers. To figure it out, simply input your bank's sort code.
The Bank of England recognises the following financial institutions as direct participants:
| | | | |
| --- | --- | --- | --- |
| Banco Santander, S.A. | ClearBank Limited | ING Bank N.V. | State Street Bank and Trust Company |
| Bank of America N.A. | CLS Bank International | J.P. Morgan Chase Bank N.A. | The Co-operative Bank plc |
| Bank of China Limited | Clydesdale | LCH Limited | TSB Bank plc |
| Bank of England | Danske Bank | Lloyds Bank plc | UBS AG |
| Bank of New York Mellon | Deutsche Bank AG | National Westminster Bank plc | Virgin Money |
| Bank of Scotland plc | Elavon Financial Services DAC | Northern Trust Company | |
| Barclays International | Euroclear Bank SA/NV | Royal Bank of Scotland plc | |
| Barclays UK | Handelsbanken plc | Santander UK plc | |
| BNP Paribas SA | HSBC Bank plc | Societe Generale | |
| Citibank N.A. | HSBC UK Bank plc | Standard Chartered Bank plc | |
What Are CHAPS Payments Used For?
They are often used for the transmission of costly and sometimes "time-sensitive" payments. Individuals might use this method to make a down payment on a property or shift money between accounts, while businesses could use CHAPS to pay their suppliers or their taxes.
How Long Does a CHAPS Payment Take?
CHAPS transactions often are processed on the same day. Specifically, whether the transaction is made before the cut-off time. The mechanism may be used for bank-to-bank transactions on weekdays between the hours of 6 a.m. and 6 p.m. local time. However, the cutoff time for transactions at your bank may be different.
Same-day payments may be requested by customers of Starling by phoning customer service between the hours of 9 a.m. and 3 p.m. (GMT) Monday through Friday.
For comparison, BACS payments processing time may take up to three business days, therefore CHAPS is a great solution for time-sensitive transfers.
What Is the CHAPS Payment Limit?
There is no maximum or minimum amount that may be paid; however, Starling clients are obliged to use this method for any transfer that is more than £500,000.
Which Payment Types Are Most Appropriate for CHAPS?
CHAPS payments are known for being fast, secure, and reliable, making them an ideal choice for large transactions that require immediate settlement. Let's take a closer look at some of the payment types that are best suited for CHAPS.
Large Individual Payments
CHAPS payments are an excellent option for individuals who need to make large transfers quickly and securely. Examples of large individual transactions include purchasing a high-value item such as a car, paying a large deposit on a property, or settling a large legal bill.
Corporate Payments
This type of payment method is commonly used for making payments such as salaries, bonuses, or vendor payments. This method is particularly useful for companies that need to make time-sensitive transactions, as they can ensure that the instruction is settled on the same day.
Legal Property Transfers
Property transactions involve large sums of money that need to be settled quickly and securely. Using CHAPS money transfer, buyers and sellers can be confident that the payment will be settled on the same day, which helps to reduce the risk of fraud or other issues.
Financial Institution Payments
Banks and other financial institutions use CHAPS bank transfers to settle large transactions between themselves, such as the settlement of securities trades or other financial instruments. CHAPS is preferred in these situations due to its reliability and speed.
Requirements for Direct Access to CHAPS
To join the system directly and continue to participate in the programme after doing so, an organisation must first satisfy specific conditions.
It is necessary for an organisation to:
have a business account that may be accessed to meet commitments and make payments. The terms and conditions for accessing accounts are outlined in the Settlement Account Policy of the bank,
adhere to the requirements outlined in the definition of a participant that may be found in the Financial Markets and Insolvency Regulations of 1999,
if the company's headquarters are located somewhere other than in England and Wales, they should offer legal advice on the company's status and the conclusiveness of the settlement,
ensure that they strictly abide by all of the operational and technical requirements, such as those described in the CHAPS Reference Manual.
The Bank operates based on the idea of "trust but verify." Direct Participants are obligated to self-certify that they comply with all rules and responsibilities, as well as to report any instances in which they fail to do so. In addition to that, the Bank could attempt to validate particular locations.
The usage of SWIFT FIN Copy, interfaces that can connect to and process messages sent over the SWIFT network, and connections to the SWIFT network via one or more BICs are all considered to be necessary technical conditions. Access to the Extended Industry Sort Code Database and the Enquiry Link function offered by the Bank are two additional components that are needed. VocaLink has provided a new window for this link to open should you want to click on it.
Accessing CHAPS: Direct vs. Indirect Options
Direct access is a service offered by the Bank of England to banks and other financial institutions that allows them to make and receive CHAPS payments directly. This means that these institutions can settle transactions themselves rather than relying on third-party providers, which can offer greater control and flexibility over their payment processing.
To obtain direct access, financial institutions must meet certain eligibility criteria and go through a rigorous application process. Once approved, they can connect to the system directly and begin processing CHAPS payments on their own behalf. This can offer a range of benefits, including faster settlement times, greater control over the process, and the ability to offer CHAPS directly to their customers.
Indirect access is another option for financial institutions that do not meet the eligibility criteria for direct access. This involves using a third-party provider that has direct access to the system to process instructions on their behalf. While this can offer some of the benefits, such as fast settlement times and security, it does involve additional fees and may not offer the same level of control over the process as direct access.
The Financial Implications of Direct Access
What you need to know about CHAPS is that financial institutions that wish to obtain direct access must pay a one-time setup fee, as well as ongoing annual fees. These fees can be significant and may vary depending on the volume of transfers processed by the financial institution. Additionally, financial institutions must also bear the costs of maintaining the necessary infrastructure and staffing to support CHAPS payment processing. Despite these costs, many financial institutions find that the benefits of direct access to the system outweigh the expenses, as it offers greater control and flexibility over their payment processing, faster settlement times, and the ability to offer CHAPS payments directly to their customers.
What Are the Benefits of Using CHAPS Payments?
Direct access allows payment service providers to make high-value same-day transfers to their clients in a safe manner while reducing the amount of time it takes to complete the transaction. There is neither a minimum nor a maximum amount that can be paid.
The real-time gross settlement mechanism used by the Bank in conjunction with the SWIFT messaging network contributes significantly to the high degree of operational resilience that is present.
Because settlement risk is avoided among direct participants at the expense of a larger demand for liquidity, this design is best suited for a high-value payment system with the biggest potential for systemic risk. This is because settlement risk is avoided among direct participants.
What Are the Disadvantages of Using CHAPS?
There are several difficulties associated with the CHAPS.
The tight timelines may make your relocation more challenging.
If you make a mistake, it is difficult to cancel a payment after it has been made, which means it is possible that you to get your money back if you make a mistake.
Banks charge an average of £25 to £30 for transactions, which makes it much more expensive for the end user in comparison to other payment methods.
Are CHAPS Payments Safe?
The system is regarded as having an extraordinarily high level of security as a result of the fact that it is an isolated network that is comprised only of authorised financial institutions. Since 2017, the Bank of England has been tasked with the responsibility of supervising CHAPS, which are subject to stringent regulations.
FAQ
How Does a CHAPS Payment Work?
It is a same-day electronic transfer of funds between two bank accounts in the UK. It works by sending a message to the receiving bank, which confirms that the funds have been transferred and are available to the recipient.
Is CHAPS Payment Free?
Financial institutions that have direct access to the CHAPS system must pay a one-time setup fee, as well as ongoing annual fees. These fees can be significant and may vary depending on the volume of payments processed by the financial institution.
Are CHAPS Payments UK Only?
Is CHAPS the Same As SWIFT?
No, they are not the same, and understanding how SWIFT works can help distinguish between the two. While both are electronic payment systems, CHAPS is used for same-day transfers between accounts in the UK, while SWIFT is an international payment messaging network used for transfers between banks in different countries.
What Are the Disadvantages of CHAPS?
One disadvantage is its cost, as it can be more expensive than other payment methods. Additionally, CHAPS is only available during certain hours, which may not be convenient for all users. Finally, the transaction limit can be lower than other methods, which may not be suitable for larger transactions.