February 6, 2023
5 mins read
Faster Payments are one of the wire transfer methods used for UK domestic payments. Here…
Faster Payments are one of the wire transfer methods used for UK domestic payments. Here is everything you need to know about Faster Payments.
What are Faster Payments?
As the term indicates, with Faster Payments, wire transfers are processed rapidly and deposited into the recipient's account nearly immediately. It is owned and controlled by Pay.UK, the same firm that oversees Bacs payments and checks.
The 2008 introduction of the Faster Payments Service (FPS) sought to reduce bank-to-bank transaction wait times. Faster Payments may be processed in-branch, over the phone, via mobile banking, and on the bank's website. The most common kind of Faster Payments is single instantaneous payments (individual, one-time payments) that may be handled as single immediate payments 24 hours a day, seven days a week.
How do Faster Payments work?
Faster payments are simple for consumers, but banks must do a large amount of administrative work to accomplish the transaction. It should also be mentioned that there are four distinct Faster Payment alternatives.
These encompass:
Instant and one-time payments
Payments dependent on future events
Permanent directions
Direct corporate access payments
Future payments and current payments are both one-time transactions. These may be accomplished using internet banking, a mobile banking application, or a bank office. A single instantaneous payment will be delivered immediately and will appear in the recipient's bank account within a few hours. It is possible to arrange forward-dated payments to transfer money at a certain time and date.
How long do Faster Payments take?
The name explains itself, Fast Payments are instantaneous. Most of the time payments are deposited into the recipient's bank account within several minutes or even faster. Sometimes Faster Payments may take up to two hours to arrive.
What is the Faster Payments limit?
The Faster Payments program has a transaction maximum of £1,000,000. There may be payment limits on some accounts for Starling clients. Payments may be completed inside the app, and if we need further information to authorize the payment, we will contact you there. Occasionally, you may be required to produce payment documentation.
What are the different types of Faster Payments?
There are four categories of Faster Payments. These encompass:
Single Faster Payments are often one-time transactions. This is the most frequent and always-available payment method.
Forward-dated payments are likewise one-time payments, but they are given and received on an agreed-upon date in the future. The most prevalent example is paying a phone bill using a debit card. These may be submitted at any time, although some firms will only accept payments on business days.
A standing order is a scheduled payment with a predetermined amount and date. They are often utilized for costs such as rent and bills. Payments via standing order are often only accepted during the week; if the due date comes on the weekend, the payment will be processed the next working day.
The intended audience for payments for direct corporate access is businesses. These allow firms to transmit several Faster Payments payment messages simultaneously. These payment methods are incompatible with Starling Bank.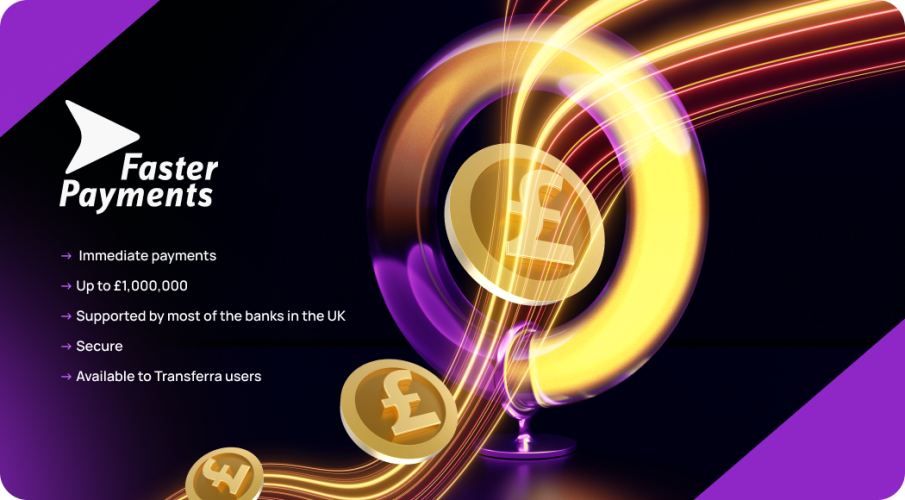 Which banks are direct participants of Faster Payments?
The vast majority of British banks support faster Payments. However, some banks, building societies, and financial services firms are direct members of the Faster Payments Service, meaning they connect to the service without a third-party sponsor. Starling participates extensively in FPS.
The following parties have a direct investment in Faster Payments:
| | | | |
| --- | --- | --- | --- |
| The Access Bank UK | Danske Bank | Modulr | Square |
| Atom Bank | Ebury | Monzo | Starling Bank |
| Barclays | Elavon | Nationwide | Tandem |
| BFC Bank | HSBC | NatWest | Tesco Bank |
| Cashplus | HSBC UK | PayrNet | Wise |
| Citi | JP Morgan | PPS | TSB |
| Clear Bank | LHV | Prepaid Financial Services | Turkish Bank UK |
| Clydesdale Bank | Lloyds Bank | Revolut | Virgin Money |
| The co-operative Bank | Metro Bank | Santander | |
| CreDec | Mettle | Equals Money | |
Are Faster Payments the same as a bank transfer?
Yes, Faster Payments operate similarly to bank transfers, and the words are often interchanged. Bacs and CHAPS are additional formats for bank transfers.
Transaction limits of Faster Payments
These may differ based on whether a Faster Payment is made from a personal or commercial account. Each financial institution has its requirements for both sorts of transactions. The Faster Payments website provides listings of each bank's transaction limitations for both business and personal transactions.
Faster Payments cost
As of August 2022, over forty institutions are using the Faster Payments Service. A fee will be assessed to business clients based on their usage and the pricing structure of their bank. Individuals may now utilize the service for free in major part.
Are Faster Payments secure?
Although Faster Payments are easy and rapid, banks put forth significant effort to ensure the security of the transaction behind the scenes.
Consider a situation in which your firm must pay one of its suppliers $1,000. You initiate the Faster Payment by instructing your bank to utilize one of the aforementioned ways. Typically, the bank will request your password to verify your identity.
Next, you must provide the supplier's sort code and account number, which serve as the Faster Payment's identifying address. It is typical for your supplier's bank statement to contain a reference to the payment, as well as the payment's rationale.
Before processing the payment, your bank will verify that you have sufficient money. If the bank has suspicions about your identification, it will stop the payment and do further checks. After that, the funds will be sent to your provider through Faster Payments.
The receiving bank, often known as the supplier's bank, gets the payment instructions following Faster Payments Service verification. After verifying the account number, the receiving bank notifies the Faster Payments Service that the payment has been authorized (it may reject it).
The Faster Payments Service notifies your bank that the transaction has been completed and credits the recipient bank with the amounts. Your bank will then update you on the status of the payment, and the funds will be transferred to the supplier's bank.